New York Drivers' License Test 2023 - FREE Practice!
New York Driver's Licnese Info & Resources:
New York Driver License Requirement
Before getting a full New York State driver license, you will need to get a learner permit at a DMV office first.
You must be age 16 or older to apply. If you are under age 18, your parent or legal guardian must sign the consent section of the Application for Driver License or Non-Driver ID Card (MV-44). You do not need parental consent if you are age 17 and have a Driver Education Certificate (MV-285).
Types of Licenses
Operator, Class D - Minimum age is 18, or age 17 with driver education.
Limited Junior Operator/Junior Operator, Class DJ - Minimum age is 16.
Non-CDL Class C - Minimum age is 18.
Taxi/Livery, Class E - Minimum age is 18.
Motorcycle, Class M - Minimum age is 18, or age 17 with driver education.
Limited Junior Motorcycle/Junior Motorcycle, Class MJ - Minimum age is 16.
Enhanced Driver License - Can be used for land and sea border crossings to and from the U.S., Canada, Mexico, Bermuda and the Caribbean.
Driver Education (To Change Your Class DJ or MJ License to Class D or M) - You can apply to change your junior driver license to a full license at age 17 if you received a Student Certificate of Completion (MV-285) from an approved driver education course.
Recreational Vehicle or "R" endorsement - Recreational vehicles, with or without air brakes, are not defined as commercial vehicles.
Vision and DMV Written Tests
To pass the vision test, you must have 20/40 vision in at least one eye with or without corrective lenses.
The
NY Written Test
for a Class D, M, DJ, MJ or E license examines knowledge of the rules of the road, safe driving techniques, road signs and the laws about alcohol and drug use while driving. To pass
the NY written test
, you must correctly answer at least 14 of the 20 questions asked, and correctly answer two of the four questions about road signs.
If you are applying for a motorcycle permit, you must give the correct answers to at least three out of the five motorcycle questions.
If you do not pass the
NY dmv written test
for the first time, you can take it again for no additional fee. There is no limit to how many times you can take the written test.
The Learner Permit
When you pass the vision and the
DMV written test NY
and pay your fees, your learner permit will be issued and you can start to learn to drive.
The learner permit is valid for approximately five years. The exact expiration date depends on your date of birth and the date that you applied for the learner permit.
DMV Driver License Application Fee
Following is a table of driver's license application fee for the state of New York, which is correct by Feb 2015.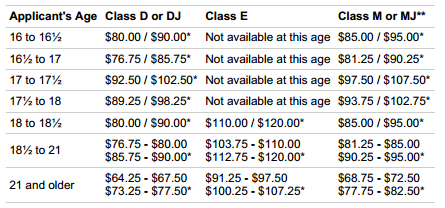 1. What is the hand signal for a stop? A right turn?
2. If two drivers enter an intersection from opposite directions at the same time, and one travels straight, the other prepares to turn left, which must yield the right-of-way?
3. If you enter an intersection to make a left turn, but oncoming traffic prevents the turn immediately, what should you do?
4. If you reach an intersection that is not controlled at the same time as a driver on your right, and both of you prepare to go straight, who has the right-of-way?
5. What must you do if you enter a road from a driveway?
6. You face a green light, but traffic on the other side of the intersection does not allow you to travel all the way through the intersection. May you enter the intersection?
7. Does a vehicle prepared to enter a traffic circle or rotary have right-of-way over vehicles in the circle?
8. What will you do if you hear a siren close by but can not see where the emergency vehicle is?
9. How far before a turn must you signal?
10. When you prepare for a right turn, should you remain as near the center of the lane as possible?
11. Where must you position your vehicle when you prepare to make a left turn from a two-way roadway into a one-way roadway?